Dear colleague

Welcome to this edition of CLGF e-news. Today (8 March) is Commonwealth Day when I and many of my colleagues will be involved in a number of meetings and celebrations to mark the occasion.

At the end of February we held our annual Board meeting in Gaborone, Botswana.

Botswana is a good success story in terms of democratic local government. Thanks to its political stability and progressive government, it has achieved significant economic and social growth. CLGF was able to support the first national conference of the Ministry of Local Government and Botswana Association of Local Authorities which discussed strengthening local government for improving services and sustainable development. We were pleased to see speakers and delegates paying attention to the Aberdeen Agenda principles as well as the statements on local leadership in the Auckland Accord and Improving Local Government in the Freeport Declaration, the outcome of last year's Commonwealth Local Government Conference held in The Bahamas.
Decentralisation, local government financing, building the capacity of local authorities, leadership development, gender equality, local authorities role in local economic development were all highlighted as key areas for strengthening local government. These issues were reflected in the statement of the CLGF Board at the end of its meeting and are being addressed in CLGF's work programme to support its members through exchanging information on innovations and good practice, through capacity building programmes in the different regions of the Commonwealth and through being the voice of local government in the Commonwealth.

Carl Wright
Secretary-General, CLGF
Regards


CLGF news
| | | |
| --- | --- | --- |
| | | Botswana: CLGF Board meets in Gaborone |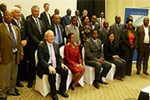 The annual meeting of the Commonwealth Local Government Forum (CLGF) Board was held in Gaborone, Botswana on 25-26 February, hosted by the government of Botswana. The Board meeting is the main decision-making forum to agree CLGF's policies, priorities and future work including developing its programme of work in Southern Africa. The Board also received updates on recent political developments in local government from around the Commonwealth, and was addressed by Commonwealth Secretariat Deputy Secretary General Mrs Masire-Mwamba.
The week of events also included; a CLGF meeting with ministers of local government from southern Africa; a consultation meeting with CLGF's African members; and meetings of CLGF representatives with Botswana's Hon Vice President Lieutenant General M S Merafhe in Gaborone. The Board and other meetings followed the first ever Botswana local government conference where members of the CLGF joined Botswana local government colleagues to discuss strengthening local government. [
more
]

Latest news: Commonwealth Local Government Conference
15 - 18 March, 2011, City Hall, Cardiff, UK
CLGC 2011 - website launched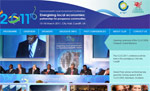 Take a look at our brand new conference website - it's been given a fresh design. This is the best place for you to keep up-to-date on all our latest conference news.
www.clgc2011.org
| | | |
| --- | --- | --- |
| | | Zimbabwe local government roundtable highlights training needs 18-19 February, 2010 |
CLGF, in partnership with the Zimbabwe Local Government Association and the Local Government Association of England and Wales held a workshop to explore the needs of local government in Zimbabwe. The partners are working with a range of international local government organisations including the Swedish, Dutch, Canadian and South African Local Government Associations to look at how resources can be shared and coordinated to support local government in Zimbabwe as effectively as possible. [
more
]
Study visits to the UK - Indian Ministry of The Panchayati Raj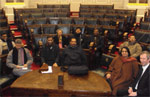 In February, CLGF hosted two delegations of senior officials from the Indian Ministry of the Panchayati Raj. The groups visited several UK councils, including Birmingham City Council, Staffordshire Moorlands District Council and Kent County Council, as well as meeting with key figures at the LGA for England and Wales, The Audit Commission, and the Government Office for the West Midlands. The study visits were developed in cooperation with the Swiss Agency for Development and Cooperation and UNDP, as an opportunity for participants to share expertise on multi-level government and community leadership.
Local government around the Commonwealth
Fairtrade in your council - ask the experts...

UK:
From Fairtrade events in schools in Aberdeen, Fairtrade tea dances and coffee mornings in Swansea to Fairwear Fashion shows in Bristol - cities and towns across the UK have been celebrating Fairtrade Fortnight 2010 in style. Following the success of this year's Fairtrade Fortnight, Hannah Reed, Fairtrade Towns Manager at the Fairtrade Foundation will host an online question & answer session (16-18 March), discussing your questions and ideas on all things Fairtrade. This is a chance for you to find out more on how to become a Fairtrade town, hints and tips on how to keep up the momentum once you achieve Fairtrade status and to discuss the potential positive impacts across the council. Ask the experts, share your experiences and link up with other Fairtrade enthusiasts possibly facing similar challenges. [
more
]
Welsh and African communities celebrate UN recognition for making poverty history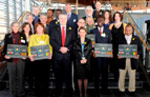 UK:
Over 140 people came together in the Senedd, in Cardiff Bay to celebrate the work of Welsh and African communities working together to make poverty history. The celebration was focused on three Welsh and three African communities who were awarded a United Nations Gold Star for their contribution towards making poverty history, building friendships and broadening horizons between Wales and Africa.
Download full story

Jamaica:
Minister of State in the Office of the Prime Minister with responsibility for Local Government Reform, Hon Robert Montague, has said that the series of Parish Development Symposia being held across the island have been very successful so far. He was speaking during the workshop break-out session of the St. James Parish Visioning Symposium held on 24 February at the Montego Bay Civic Centre. The session was the sixth to be held in parishes across Jamaica under the theme: My community, our parish, one Jamaica - my vision. The main purpose of the symposia is to provide a forum for forging a vision for the development of each community and parish over the next 20 years. Minister Montague said he is heartened by the level of participation from all strata of society and the quality of discussion. [
more
]

New Zealand:
The National Infrastructure Plan was issued on 2 March. It shows the large scale of the Government's infrastructure programme and highlights some future issues that may need action. The first National Infrastructure Plan, put together by Treasury's National Infrastructure Unit, shows the Government is spending over $6 billion a year on physical assets and holds about $110 billion of such assets. The plan has a 20-year horizon and is part of a range of work aimed at improving the Government's planning, decision-making and management of infrastructure in order to maximise economic benefits. [
more
]
The full infrastructure report is available at
here
.

Pakistan:
The Local Councils Association of Pakistan (LCAP) has filed a petition in Lahore High Court challenging the amendments made in Punjab Local Government Ordinance 2001 and appointment of administrators under these amendments across the province. LCAP says that the provincial government amendments to the Local Government Ordinance 2001 and appointment of administrators is against the Constitution of Pakistan. It also asked the court for issuance of orders to allow the elected representatives of the local bodies to continue to their respective offices till the next local body elections. [
more
]

UK:
Transport for London (TfL), London's transport agency, has signed up to a new campaign aiming to cut carbon emissions and boost fuel efficiency in the UK capital.
Together with the London Development Agency (LDA), the local government body has launched the UK's biggest hydrogen fuel cell housed in its head office buildings in Southwark, which will generate cleaner, low carbon energy. TfL and the LDA plan to cut their CO2 emissions by ten per cent, providing an estimated £400,000 in fuel bill savings.
[
more
]
We need your input
Do you have a news story that would be of interest to others involved in local government throughout the Commonwealth? If so we would like to hear from you – please e-mail susan.rhodes@clgf.org.uk or sophia.jackson@clgf.org.uk or
enews@clgf.org.uk.
Follow us on Twitter: http://twitter.com/clgf_news
Events
Commonwealth Day: Celebrating Science 8 March, 2010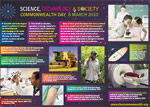 Commonwealth Day is celebrated on the second Monday in March every year. The theme of Commonwealth Day on 8 March is Science, Technology and Society. Scientific and technological research continues to enhance our knowledge and understanding and has helped bring about profound political, economic and social transformation. From health to education, agriculture to energy, enterprise to infrastructure, even to democracy and administration: science and technology have transformed - and bettered - almost every aspect of the lives of the citizens of the Commonwealth and the world and many of these great discoveries have been produced by the best minds from all over the Commonwealth. Info:
www.commonwealthday.org
Deadline for submission of best practices is February 22, 2010.
Official website
World Urban Forum, 22-26 March, 2010

Right to the City - bridging the urban divide The theme of FUM5 is "The Right to the City: Putting the Urban Divide. The Forum was established by the United Nations to examine one of the most pressing problems facing the world today: rapid urbanization and its impact on communities, cities, economies, climate change and policies.
Where: Rio de Janeiro, Brazil
Info:
www.unhabitat.org/WUF
Publications

Issue 1 / 2010 - CLGF's latest bulletin is out now
| | |
| --- | --- |
| | The CLGF Bulletin is our quarterly newsletter and the latest issue. Highlights: |
| | |
| --- | --- |
| - | Commonwealth backs commitment to good local governance |
| - | Update on CLGF review |
| - | Malawi makes progress on local governance |
| - | Support for Seychelles |
Download bulletin
Commonwealth e-journal of local governance - Special CLGC2009 edition

The Commonwealth e-journal of local governance was published on 2 March 2010. This is a special edition on the 2009 Commonwealth Local Government Conference, held in Freeport, The Bahamas, contains background information on the theme and outcomes and papers presented to the research colloquium that was held prior to the conference.
Read the latest edition of the e-journal
Topics covered in this edition include:
| | |
| --- | --- |
| - | Improving local government: the Commonwealth vision |
| - | From citizen participation to participatory governance |
| - | Deeping local democracy in South Asia |
| - | A Canadian approach to municipal consolidation in major city-regions |
| - | The political-administrative interface in South African municipalities: Assessing the quality of local democracies |
| - | plus commentary and practice notes on electoral quotas, local-level governance, municipal-aboriginal relations, addresssing human trafficking, decentralisation, and reserved seats for women. |
Common global challenges addressed in new magazine

A new international affairs magazine has been published with a focus on contributing to the debate and understanding of the world's many challenges and solutions. [
more
]
View online version
or
download PDF
Commonwealth Local Government Conference 2011