CLGF news
Good Practice Scheme launches new project in Sierra Leone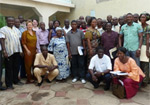 This month saw the launch of a new project under the Good Practice Scheme, with National Association of Local Authorities Ghana (
NALAG
) supporting Local Councils Association of Sierra Leone (LoCASL0 in developing a national association of local government in Sierra Leone. A workshop in Bo was hosted by Mayor Herbert Williams and attended by council Mayors, Chairmen, and Chief Administrators from across Sierra Leone, and senior representatives of the Ghana association. Over the two day event the group mapped out objectives for the fledgling association, in terms of both form and function. NALAG and LoCASL will now work together over the next year to implement these proposals.
Vanuatu listens to local voices
Lenakel Municipal Town Council (LMTC) in Vanuatu is the first urban council in the country to hold a People's Forum, a means to make sure that the voices of the indigenous people are heard. Local chiefs and community leaders joined councillors and local MPs in March in a dialogue hosted by the council's Lord Mayor Reginald Tangap. LMTC is a new Council that has just been established in the Tanna Province of Vanuatu with technical assistance from CLGF through the CLGF Pacific Project. The leader's dialogue was held in Tanna by CLGF prior the establishment of the Council. CLGF also held Local Elected Leaders training for all stakeholders on Tanna.
Local government reform in Trinidad and Tobago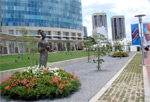 Local government reform is moving ahead in Trinidad and Tobago with the 2010 Local Government (Reform) Bill now going through parliament paving the way for local government elections later this year. The Bill will outline new roles and responsibilities for the Ministry of Local Government and municipal corporations. A reform strategy and implementation plan is currently being developed. CLGF has been invited to contribute to the reform process, by sharing good practice and targeted technical assistance. The government has begun to implement three flagship projects on local area planning, waste management and disaster preparedness and has also launched a Certificate in Local Government Programme in conjunction with the University of the West Indies for training local government officers.
Commonwealth around the web
UNITAR / Graduate Institute, Geneva e-Learning Course
The Nkabom Commonwealth Youth Leadership Programme
Winners announced in 2010 Commonwealth Writers' Prize
Funding for development - new information for UK councils
Local government around the Commonwealth
The Square Mile project

The Square Mile is an innovative global arts project that engages people in an investigation of their attitudes to their neighbours, their communities and their environment. It links communities across the world in an on-line art work and dialogue to help break down


We need your input
Do you have a news story that would be of interest to others involved in local government throughout the Commonwealth? If so we would like to hear from you – please e-mail susan.rhodes@clgf.org.uk or sophia.jackson@clgf.org.uk or
enews@clgf.org.uk.
Follow us on Twitter: http://twitter.com/clgf_news
Vacancies at CLGF: finance assistant (part-time)

CLGF is looking for a finance assistant to provide finance and administrative support to the finance team. The appointment is initially for six months. Interested?
Apply here
Closing date:
Friday 30 April 2010
Interviews:
Tuesday 11 May 2010
Events
CLGF hosts networking event at World Urban Forum (22-26 March), Rio De Janeiro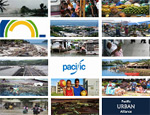 The event was held in association with United Nations Economic and Social Commission for Asia and the Pacific, Pacific Operations Centre (UNESCAP-POC), United Nations Human Settlements Programme (UN-HABITAT) Pacific, United Nations Development Fund for Women (UNIFEM) and the University of Auckland (UoA).
Download agenda
Info:
http://pacific.clgf.org.uk
The Ninth Women's Affairs Ministers Meeting (9WAMM)
Commonwealth Women's Affairs Ministers Meetings (WAMMs) have been held triennially since 1985, i.e., over the last 20 years. They have provided strategic opportunities for ministers, senior officials, civil society organisations, and partner agencies to discuss critical issues in advancing women's empowerment and gender equality, and to contribute to Commonwealth and global agenda-setting processes.
Official website
When: 7-9 June 2010
Where: Barbados
CAPAM: 2010 African Regional Conference: Good Governance, Accountability and Trust

Conference registration is now open for the "Good Governance, Accountability and Trust" conference to be held May 17-20 in Abuja, Nigeria. This conference will examine the effectiveness of these and other strategies in strengthening trust and accountability between citizens, political leaders and the public service. [
more
]
When: 17 May 2010
Where: Abuja, Nigeria
Publications

The State of the Cities: Why, and how, the Commonwealth must address the challenge of sustainable urbanisation: Commonwealth Secretariat Discussion Paper #8, April 2010
The Commonwealth embraces all dimensions of today's urban challenges. Its ranks include global cities such as Mumbai with its 19 million inhabitants, and Malé, which with a population of just 111,000 is the largest city in the rapidly urbanising small island state of Maldives, threatened by rising sea levels. [
more
]
Commonwealth Local Government Conference 2011