CLGF news
CLGF commends local government in Rwanda

CLGF Secretary-General Carl Wright visited Rwanda for the first time since it became the Commonwealth's newest member following admission by Heads of Government last November. Mr Wright met with the local Government Minister of Rwanda, James Musoni and the Mayor of Kigali and President of RALGA, Aisa Kirabo Kacyira. Subject to official approval, both would like to join CLGF as a member. Mr Wright commented on the progress that Rwanda has made on decentralisation and promoting democratic values.
More
Read Carl Wright's blog post on Rwanda
Carl Wright, CLGF (L) with President James Michel, Seychelles

CLGF Secretary-General Carl Wright met with the Seychelles Local Government Minister to talk about the planned reforms for local government and technical support and advice from CLGF and its members. Mr Wright visited a district committee meeting to see how local participation and empowerment is currently working and expressed his support for moving towards an elected structure at local level.

CLGF members from Mauritius have visited the islands to give advice about the development of the reforms and colleagues from the Seychelles will shortly be visiting Mauritius to experience how their system is operates.

More
Vacancies at CLGF: Research Intern
CLGF is looking for a research intern who will be based in the policy and projects team, reporting to the Deputy Secretary General. The appointment is for six months. Interested? Apply
here
Closing date: Monday 7 June 2010
Farewell to Hannah Cook
Hannah Cook, one of our Project Officers, will be leaving at the end of this month to go and work for Christian Aid. We are sad to see her go but wish her the best of luck in her new role.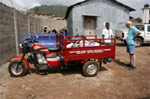 Contracts have been signed for a new GPS project between the London Borough of Lewisham and Kingston and St. Andrew Corporation in Jamaica. This project will look at how Lewisham's experiences of using IT and social media can help KSAC to streamline their service delivery and increase community engagement in council activities. The first project visit will take place at the end of May.
A successful planning mission between Hastings Borough Council, UK and Western Area Rural District Council in Sierra Leone has been undertaken with both parties identifying numerous areas of possible cooperation between the two authorities. A Good Practice Scheme project proposal is now in development, focusing on developing the area's waste management strategies. This project will build on a long standing twinning link between the two areas.
Commonwealth around the web
Port of Spain Society Statement: 2009 Commonwealth Heads of Government Meeting

The Port of Spain Statement is a powerful document that can help the whole Commonwealth work towards a more transparent and sustainable future. You can view the document
here
.
Women commend Kagame on development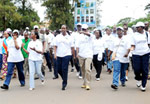 President Paul Kagame has promoted all Rwandans and given each one a platform to showcase their ability, a move that has worked as a stepping stone towards the development of the nation.
More
Useful website on India

A CLGF staff member has suggested this website as a useful source for information and contacts in India:

visit website
Futurologist looks to technology to deliver better quality of life

World renowned author and 'futurologist' Dr James Martin invoked the words of Victorian novelist Charles Dickens earlier this month, as he cautioned that the phrase "the best of times, and the worst of times" applies aptly to the 21st Century.

More
Local government around the Commonwealth
SALGA National Members Assembly, 10-12 May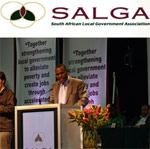 SALGA held its annual National Members Assembly in Kimberly in the Northern Cape from the 10 to 12 May, 2010, writes Nyasha Simbanegavi, CLGF. The meeting was also attended by Director Generals included, Carl Wright, Secretary General, CLGF, Premiers and Provincial Government Members of Executive Council (MECs) and local government leaders. Representatives from Local Government Associations from the African continent notably Botswana and Rwanda also attended.
Read full report

Malawi to hold local polls in November:
Local Government Minister Goodall Gondwe has said in the past the country first wanted to reform the local government system before holding the polls. Local elections are constitutionally required to be held by May this year. The last local polls were held in 2000, but the next in 2005 were called off because of a searing famine which affected half of the country's people.
More
International internship opportunity

The Society for Participatory Research In Asia (PRIA) is hosting its two month International Internship Programme from September this year. The programme aims to give participants relevant field exposure and an international learning experience. The deadline for applications is 15 June. Info:

www.priaeducation.org/piip.php
UK Councils benefit from doing development says survey:
A survey by the LG Alliance shows that councils across the UK are actively involved in international development work and through this are bringing benefits back to their local areas. The results highlighted that a variety of activities are taking place across a range of council departments. A copy of the survey report is available on the LG Alliance
website


We need your input
Do you have a news story that would be of interest to others involved in local government throughout the Commonwealth? If so we would like to hear from you – please e-mail susan.rhodes@clgf.org.uk or sophia.jackson@clgf.org.uk or
enews@clgf.org.uk.
Follow us on Twitter: http://twitter.com/clgf_news
Events
FCM's 73rd Annual Conference - CLGF Chair to speak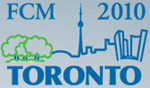 CLGF Chairperson, Mayor Mrs Zenaida Moya-Flowers, Belize City Council will address the International forum during the Federation of Canadian Municipalities annual conference. She will be discussing future cooperation between CLGF and FCM including a proposed regional programme for the Caribbean focusing on local economic development.
More
Date: 28 – 31 May, 2010
CLGF to attend Australian National General Assembly of Local Government

The NGA provides an important platform to showcase local government to influential decision-makers of the federal government, at both the political and departmental levels. The event will be attended by CLGF, Secretary General, Carl Wright.
More
Date: 14-17 June, 2010
Cyber Security Forum

The Commonwealth Telecommunications Forum are holding a Cyber Security Forum in London which is free for non-profit organisation delegates.
More
Date: 17 – 18 June, 2010
Annual LGA conference: Changing times, changing minds

The Local Government Association Group annual conference and exhibition brings together approximately 2,000 of the leading players in councils, central government, partners and business. This year's conference is split into three themed days and has been built around themes that the LGA group feel are key to their member authorities and the sector: Reputation; The Economy and Total Place. CLGF will be sharing a stand with the Alliance.
Date: 6-8 July, 2010, Bournemouth International Centre
Info:
http://annualconference.lga.gov.uk
Publications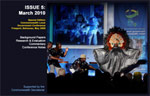 Latest Commonwealth e-journal of Local Governance
Bridging the divide: making research matter in local government is one of the articles in Issue five of the Commonwealth e-journal of Local Governance
.
Though evidence-based policy research is valuable for those making decision in local government, the transfer of knowledge from researchers to local governments and service deliverers is not always easily achieved, says Mark Redwood from the International Development Research Centre, Canada. Mr Redwood outlines some of the issues and lessons from Canada's experience.
Read issue 5
I&DEA Councillors' Guide 2010/2011 available now
The new edition of the 'Councillor's Guide' has been revised and updated to reflect the latest legislation and thinking concerning local government in England. It focuses principally on the needs of newly-elected councillors, although more experienced councillors will find it useful too.
More