CLGF news
Latest news on Hull-Sierra Leone Good Practice Scheme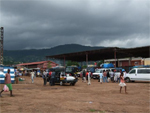 Hull, UK and Freetown, Sierra Leone, have a well established relationship (they've been twinned since 1980) that has given birth to a number of projects over the years. In early 2010 funding was granted by the Commonwealth and Local Government Forum to see officers from the two city councils working together on improving contract and Public Private Partnership procedures. The website includes video footage,
images
and useful links:
visit now
Bidding is now open to host the 2013 Commonwealth Local Government Conference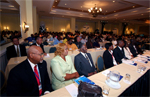 The Conference is a unique opportunity for senior mayors and local government leaders, ministers, permanent secretaries and other senior officials from across the Commonwealth to meet and discuss key policy issues and practical solutions Hosting the Commonwealth Local Government Conference provides a valuable opportunity for the host organisation/s and country to raise their profile internationally, provide a unique opportunity for their local government to interact with international peers and bring in inward investment.
Get info
CLGF attends Global Small States Biennial Conference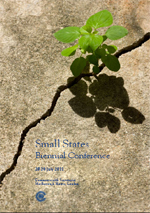 CLGF were invited to take part in the Commonwealth Secretariat's first Global Small States Conference held on 28-29 July 2010, Marlborough House, London. The purpose of the conference was to discuss how the Secretariat can further highlight the concerns of small states to the global community. July's conference was the first in a series of biennial events to provide a platform for small states to exchange views on their challenges and highlight examples of good practice, to develop a common position on global issues and to advocate their concerns to international agencies and donors.
Read more
Marlborough House Small States Consensus
GPS Project News in Papua New Guinea: South Australian Councils Lends a Hand to Madang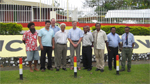 Three Local Government Councils in South Australia have agreed to support the Madang Urban Local-level Government under the scaled up phase II of the 'CLGF good practice scheme' programme in Papua New Guinea. Adelaide, Salisbury and Campbelltown Councils have signed a joint MoU with Madang to provide expertise in the area of finance, waste management, town planning and training. Work has commenced in these areas following an initial scoping by the Adelaide group of Councils.
Read full story
Training event on improving council budget preparation and monitoring in Kiribati.
CLGF Pacific Project organised a training event in partnership with Department of Local Government- Kiribati themed 'improving budget preparation and monitoring'. This training event was attended by Mayors, councilors, community representatives and staff of Councils from the Line and Phoenix Group. The week long training event had technical lectures, case study presentations, practical exercises and also round discussion. The resource persons included Mr Sachindra Sharma, Project Officer, CLGF Pacific, Mr Teewaa Tonaeka, Local Government Officer, Ms Amina Uriam, Director Local Government and Mr Eliot Ali, Permanent Secretary, MISA. Mr Sachindra Sharma delivered Technical Lecture on Budget Preparation and Monitoring and also moderated the discussions. The intended outcome of this training is to improve the service delivery through better budgeting; efficient revenue/fee determination and collection, controls on the operating expenditure and supporting capital investments on infrastructure.
GPS Project News in Papua New Guinea: Alotau Urban Local-level Government takes a Step forward in IT with assistance from Sunshine Coast Council.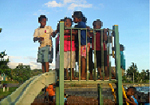 The small town of Alotau in Papua New Guinea will soon be issuing IT billing notices to its rate payers including access to broadband internet facility to allow improved communication between partners Sunshine Coast Council in Australia. Thanks to the team of experts from Sunshine Coast Council (formerly Noosa) who have helped to install the new system under the 'Good Practice Scheme' partnership programme. Both partners have started work initially to improve waste management practices in Alotau, but are now advancing further into the IT area to improve Alotau's waste revenue collection issues.
Read full story
Save the date: CLGF European members meet in Scotland.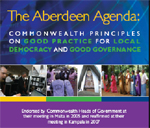 Our Scottish members are invited to join CLGF for our regional half day members' meeting on 29 September 2010. The event will be held in Edinburgh and hosted by COSLA and is a chance for members to engage with other members and find out more on the influence of the
Aberdeen Agenda
. Lunch and refreshments will be included.
Download Aberdeen Agenda
Commonwealth around the web
Online debate on decentralisation and local economic development
Invitation to participate in the online debate on decentralisation and local economic development that will be coordinated by the UCLG Decentralisation and Local Self-Government Committee from 30 August to 12 September. This online debate is organised in the framework of the preparations for the UCLG Third World Congress that will be held in the City of Mexico form 16 – 20 November. The thematic debate on decentralisation and local economic development will focus on:
a. the role of local government, and territorial actors, in local economic development;
b. the key factors for local economic development;
c. the importance of decentralisation for local economic development.
Info:
www.uclgcongress.com
Commonwealth Secretary-General calls for support to Pakistan over floods disaster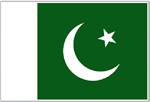 Commonwealth Secretary-General, Kamalesh Sharma, has appealed to the international community to come to the aid of Pakistan in the wake of the worst monsoon floods in living memory that have killed over 1,000 people and affected one million in the north-west of the country.
Read more
Commonwealth announces Eminent Persons Group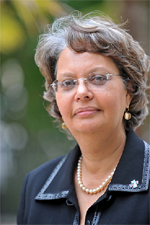 Commonwealth Secretary–General Kamalesh Sharma announced members of the Commonwealth Eminent Persons Group (EPG). "This distinguished Group will set out decisive recommendations on how to strengthen the Commonwealth and fulfill its potential in the 21st century,"Mr Sharma said when he made the announcement in London. "The Group's work will aim to ensure that the Commonwealth remains relevant to its times and makes the best use of its networks and partnerships to do so."
Read more
Commission's Professional Fellowship Scheme in 2010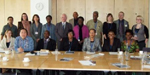 The Commission has announced that they will be running a supplementary round of Professional Fellowships in 2010 for which they are now taking applications. The closing date for this round will be Friday 17 September with Fellowships to start between January and March 2011. Commonwealth Professional Fellowships fund programmes of professional development designed to develop skills and knowledge that the Fellow will then apply in their home country and employing institution. It also offers an opportunity for UK organisations and professionals from the developing Commonwealth working in the same sector to come together to share good practice.
See examples of previous successful fellowships
Sri Lanka: Australia Funds IOM Efforts to Rebuild Economy, Communities in Northern and Central Provinces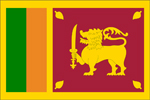 The Australian Agency for International Development (AusAID) has pledged AUD 3.3 million (nearly US$3 million) over three years to support IOM's efforts to generate the sustainable return and socio-economic reintegration of internally displaced people in the north and vulnerable communities affected by landslides in the centre of Sri Lanka. The project, which is the 3rd Phase of IOM's Australian Community Rehabilitation Programme (ACRP) launched in 2006, will work with local government and other institutions at the local level to improve access to jobs and services for impoverished and vulnerable communities. Over the past 14 months IOM Sri Lanka has provided assistance to more than 200,000 internally displaced persons in the conflict-affected north and east of the country. Other IOM activities in Sri Lanka include technical cooperation in migration management and counter-trafficking; assistance for voluntary returns from abroad; stability support and ongoing humanitarian assistance.
More info
Source:
International Organization for Migration (IOM)


We need your input
Do you have a news story that would be of interest to others involved in local government throughout the Commonwealth? If so we would like to hear from you – please e-mail susan.rhodes@clgf.org.uk or sophia.jackson@clgf.org.uk or
enews@clgf.org.uk.
Follow us on Twitter: http://twitter.com/clgf_news
Events
Global Forum on Local Development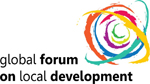 The Global Forum on Local Development: Pursuing the MDGs through Local Government is a high-level event being convened by the United Nations Capital Development Fund (UNCDF), the United Nations Development Programme (UNDP) and the Government of Uganda, and supported by a wide range of partners.
More
Date:
4-6 October, 2010, Kampala, Uganda
International Executive Workshops in India, China and Australia

This Programme is organized by Aus-Hs, Australia in collaboration with its regional counterpart Aus-Hs, India. Aus-HS is a capacity building entity that primarily deals in training, research and advisory services. Resource people include Dr. Behnam Ta'i, is the Director of Aus-HS, Hon. David Caygill, is the former New Zealand Minister of Finance, Trade and Industry and Prof. Peter Murphy, is a former Dean of the Faculty of the Built Environment, UNSW, Australia.
More
Publications
The Latest edition of Commonwealth Journal of Local Governance is now available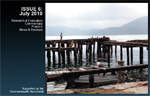 From intergovernmental relations in Ghana, local decision-making in Papua New Guinea, to the nature of local government in federal systems, this latest Issue makes compelling reading about particular aspects of local government in the Commonwealth today. This journal is part of an open-access publishing initiative.
Read latest issue
Call for papers -Commonwealth e-journal of Local Governance
Material is now invited for the November 2010 edition of the journal. We are interested in research papers, articles, reports, case studies or reviews that might be of interest to our readers. We publish twice a year, so last chance for 2010. The deadline for peer-review items is Friday 13 August. Non-peer review material can be sent by Friday 15 October. Please send to
daniel.grafton@uts.edu.au
.
We are about
Improving local governance
and
Local government as an agent of development
.
More information about our focus and the type of editorial that might be submitted can be viewed
here
Local government around the Commonwealth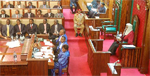 Kenya: A team of government ministers and development agencies has been set up in Kenya to work on a resource distribution formula to address development differences among and within the country's various regions. The government is expected to launch social budgeting guidelines next month, effectively giving Kenyans the power to determine how resources are to be utilised and on what projects at community level. Read more
Commonwealth Local Government Conference 2011 update, Registration now open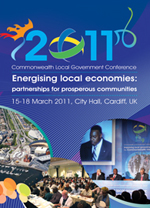 We are pleased to announce that online registration is now open for the 2011 Commonwealth Local Government Conference. We will also be shortly announcing the option to pay online.
Download flier
Register now