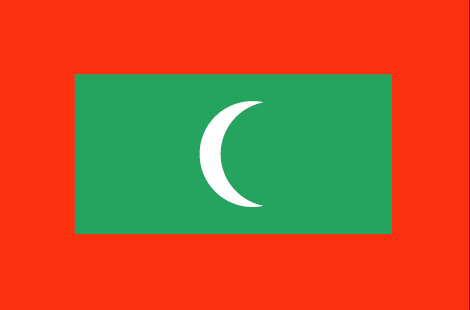 Maldives
Key facts:
POPULATION (Census 2014): 341.256
AREA: 582,000 sq km
CAPITAL: Male
CURRENCY: Maldives rufiyaa (MVRP)
HEAD OF STATE AND GOVERNMENT: President Abdulla Yameen
FORM OF GOVERNMENT: republic
PARLIAMENTARY SYSTEM: unicameral
STATE STRUCTURE: unitary
LANGUAGES: Dhivehi (official)
NATIONAL ELECTIONS:
parliamentary last: 2014, turnout: 77%; next: 2019
presidential: last: Nov 2013; turnout 64%; next 2017
LOCAL ELECTIONS: last: Janaury 2014 turnout: 64%; next: 2017
WOMEN COUNCILLORS: 5.8%
LOCAL GOVERNMENT EXPENDITURE (as percentage of total governemnt budget): 5.2% (2013-14)

Summary
The Maldives is a democratic republic with two spheres of government: national and local. Local government is provided for in Chapter VIII of the constitution and the main legislative texts are the Decentralisation Act 2010 and the Local Council Election Act 2010. The Local Government Authority has responsibility for local government. Local governments are either unitary or two-tier. The unitary councils are the two city councils (Malé and Addu) and the two tier councils comprise 188 lower level island councils which are each accountable to one of 19 atoll councils. The councils have the power to charge fees or rents for the services they provide and can seek loans as well as create financial instruments such as bonds, bills and securities to fund development activities. Every year the councils are allocated funds from the state reserves for office administration, provision of services and development projects. Whilst in legislation, revenue generated from state facilities within a council jurisdiction should also be allocated to that council, this is yet to be implemented. Atoll councils must establish and maintain a registration of islands and their lands, assist island councils in seeking technical and financial assistance, and administer and implement any projects in the atoll development plan that have not been assigned to a particular island council. City and island councils' responsibilities include providing road, waste disposal, pest control, water, electricity and sewage systems; primary healthcare and preschool education; and educational and vocational programmes for adults.
A number of amendments to the Decentralisation Act and resultant changes to other legislation are under consideration of the Local Government Authority.
Read the profile of the local government system in Maldives.
CLGF activities in Maldives
CLGF is currently working in partnership in the Maldives as part of the wider DFID funded programme supporting local governance and local economic development.
CLGF members in Maldives
Institute of Governance and Development