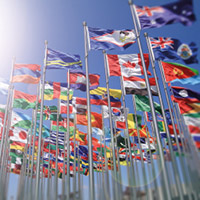 CLGF Research Advisory Group
The CLGF Research Advisory Group (RAG) is a network of research and training institutions including university departments, civil service training centres and think tanks from across the Commonwealth from the associate members of CLGF.
The RAG helps inform CLGF's programme, policy and advocacy work. It is involved in a number of events, publications and policy research projects.
CLGF research colloquium
A two-day reesarch colloquium is held immediately before the main Commonwealth Local Government Conference, which takes place every two years.
The last research colloquium took place at the University of Botswana on 15-16 June 2015.
Research and publications
Members of the RAG support CLGF in producing policy-relevant work, through background papers, reports, articles and other means.
The Commonwealth e-Journal of Local Governance is edited by Prof Alison Brown, Cardiff University and published by the University fo Technology, Sydney for CLGF. It is a peer-reviewed publication that aims to strengthen the voice of local goernemnt in the Commonwealth by providing a forum for researchers and practitioners interested in local governemnt ideas and practice.
For further information on the RAG and its activities please contact the CLGF Research Officer gareth.wall@clgf.org.uk.