CLGF South Asia Regional Conference
Local economic development: a framework for localising the Sustainable Development Goals

Jabalpur, India; 3-4 August 2016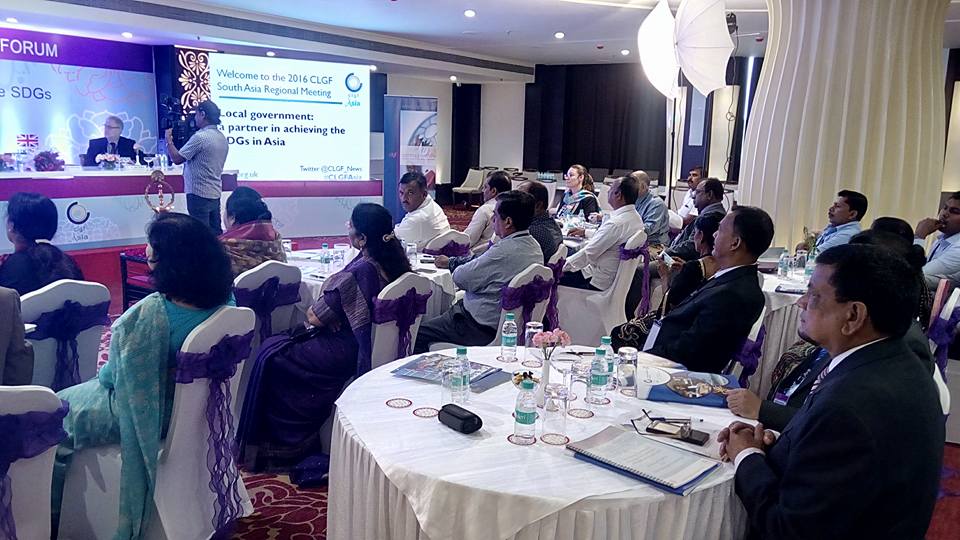 Outcomes of the 2016 CLGF South Asia Regional Meeting
Local economic development is an approach for achieving social, economic and spatial development and for local government to play a strong role in achieving the SDGs, participants at CLGF's 2016 South Asia regional meeting agreed. Participants at the meeting also agreed a framework for launching the South Asia Forum of Local Government (SAFLG) for coordinating regional exchange of local government policy and practice.
The theme of the meeting was Local government: a partner in achieving the SDGs in Asia. The meeting, which ran from 3-4 August 2016 was co-hosted by Jabalpur Nagar Nigam in Madhya Pradesh - a key project partner with CLGF and the seventh smart city of India. Participants - CLGF members and partners, including city mayors, local government leaders, ministers and others involved in local development from across South Asia - discussed local government's role in delivering the Sustainable Development Goals (SDGs), and heard about some of the outcomes of the CLGF LED projects that have been part of the programme.
Participants at the meeting highlighted some of the challenges the region faces including inconsistent decentralisation, changing labour markets, youth unemployment, women's under-employment, inadequate capacity in local authorities, inadequate local data and inadequate financing for development. They also agreed that ICT is a major tool to help tackle these challenges, including the smart city approach.
The meeting also featured CLGF LED projects that have been part of the programme in the region including.
• A pilot project in Bangladesh with three union parishads on participatory budgeting, where an open budget meeting was live telecast on a local TV channel
• A project in North Central province, Sri Lanka where training in preparing and using by-laws helped clarify and develop local government's powers so they can provide a better and more effective legal and regulatory environment for local economic development in relation to the tourism business, restaurants, waste management, parking and street vendors
• In Jabalpur, India an LED pilot project used community resource people from slum settlements to collect key information on local service providers in five slum areas for uploading to the smart city website so that others can access the data on smartphones.
From the experience of the projects, participants identified that LED must be locally appropriate and context-specific, and highlighted a number of principles for successful LED including:
• partnership with communities, private sector, NGOs, civil society, academia, other levels of government and public sector organisations;
• community ownership of and participation in the processes;
• transformational leadership;
• national enabling frameworks;
• a clear regulatory and enabling environment at local level eg through bylaws;
• a locally owned LED vision and strategy;
• effective local arrangements for multi-stakeholder engagement;
• capacity building for SMEs and marginalised communities;
• community consensus on the need to generate local revenue to support local development
• integration and convergence of national, state and local programmes to support local economic activity.
"The UN adopted the 2030 Agenda for Sustainable Development in September 2015. This contained 17 Sustainable Development Goals which aim to reduce inequality and promote economic, social and environmental development," said CLGF Secretary-General Dr Greg Munro.
"Thanks to the input of CLGF and its partners, this time the goals explicitly state that all levels of government must be involved in the implementation, including local government. CLGF is committed to supporting our local, provincial/state and central government members in developing means of doing this."
CLGF is hoping to follow-up its programme and work with partners in the region to develop tools and toolkits to help its members set, implement and monitor SDG targets.