CLGF in the Pacific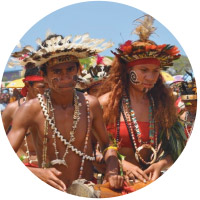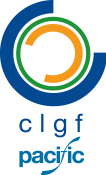 The CLGF Pacific works with national and local government and other stakeholders in the Pacific region to strengthen local democracy, institutions and service delivery capacity.
Working with central governments, provincial governments and city and town councils in ten Pacific island countries (Cook Islands, Kiribati, Fiji, Papua New Guinea (including Bougainville), Marshall Islands, Samoa, Solomon Islands, Tonga, Tuvalu and Vanuatu), CLGF is promoting and encouraging regional exchange and capacity building by strengthening institutions and improving service delivery at the sub-national level.
There are over 900 local level government bodies across the Pacific developing countries. Of these, around 50 are urban and the remainder are rural or island based. There are around 7,000 elected and appointed councillors, or over 900 excluding those in Papua New Guinea.
One of the great strengths but also challenges for local government in the Pacific is its diversity. The population, geographic size, location, cultural diversity as well as roles and responsibilities of local governments differ greatly. They range from traditional villages (and adopted traditional structures) to municipalities on a scale and arrangement not disimilar to councils in Australia and New Zealand.
The CLGF Pacific was set up to support local government management in the unique complex and changing Pacific environment, characterised by rapid urbanisation which brings specific challenges and opportunities. The CLGF Pacific works with sub-national governments in the region to help them tackle these challenges and maximise the development opportunities.
CLGF Pacific is the lead advocate and source of support for local government in the Pacific region, ensuring its contribution to building and sustaining vibrant and resilient local economies and communities.
CLGF programmes in the Pacific
Regional networks
CLGF Pacific convenes a number of regional forums including the Pacific Forum of Local Government Ministers and Mayors, the Pacific Capital Cities Forum, the Pacific Islands Local Government Association Network (PILGAN) and the Pacific Local Government Forum (a biennial regional good practice sharing forum). These forums provide a unique avenue to promote and strengthen the political will among senior policy makers and practitioners in local government to own the commitment and accountability as well as drive the advocacy for national and regional commitments to climate change, gender equality, sustainable development and the like at the local level across the Pacific region.
Read more about Pacific region partner networks
National networks
At the national level CLGF supports local level intergovernmental forums including the Local Authorities Forum (formerly called the Premiers Forum) in Vanuatu, Premiers Forum in Solomon Islands, Urban Local Level Government Forum in PNG, Konitara Tutara (Mayoral) Forum in Cook Islands, Tonga District and Town Officers Forum, Tuvalu Island Leaders Assembly, as well as other intergovernmental forums as called for on special matters such as urbanisation. CLGF also supports the establishment of local government associations in PNG (supported since 2005), Kiribati (established in 2012), Vanuatu (established in 2012) and Solomon Islands (currently in scoping phase) and in the past has supported the Fiji Local Government Association. These forums and networks provide a further avenue to promote and advocate for local government interests in the Pacific region.
Pacific Local Government Forum
The PLGF is the region's leading event on local government leadership, decentralisation and development. Bringing together local government policy makers and practitioners, the event offers thought-leadership on the key developmental issues facing the local government sector and will showcase leading practice and innovations.
2014 Pacific Local Government Forum conference Read more