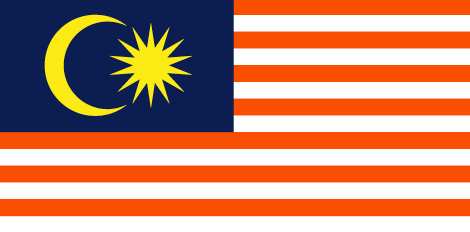 Malaysia
Key facts:
POPULATION
(2010 Census): 28.3 million
AREA: 330,803 sq km
CAPITAL: Kuala Lumpur
CURRENCY: ringgit (RM)
HEAD OF STATE:
Tuanku Al-Haj Abdul Halim Mu'adzam Shah ibni Almarhum Sultan Badlishah
HEAD OF GOVERNMENT:
Prime Minister Najib Tun Razak
FORM OF GOVERNMENT: parliamentary
democracy with constitutional monarchy
PARLIAMENTARY SYSTEM: bicameral
STATE STRUCTURE: federal
LANGUAGES: Bahasa Malaysia
(although English is widely spoken)
NATIONAL ELECTIONS: last: May 2013,
turnout: ~80% next: 2018
LOCAL ELECTIONS: there is no
elected local government in Malaysia
WOMEN COUNCILLORS: 13.1% (2011)
LOCAL GOVERNMENT EXPENDITURE (as a percentage of total government expenditure 2013/14): na
Summary
Malaysia is a parliamentary democracy and constitutional monarchy. The country has three tiers of government – federal, state and local – with regular elections held at the central and state levels. However, there have been no elections at the local government level since they were suspended in 1965. The constitution of Malaysia makes provision for local government and the main governing legislation includes the Local Government Act 1976 (Act 171) for the main peninsula and the Local Authorities Ordinance 1996 and Local Government Ordinance 1961 for the states of Sabah and Sarawak respectively. While the local authorities are under the purview of the respective state governments, the Ministry of Housing and Local Government (MHLG) is responsible for formulating, executing and monitoring all laws pertaining to local government while local authorities in the Federal Territories are subject to the purview of the Ministry of Federal Territories and Urban Well-Being. There are three types of local authority in Malaysia: city councils, municipal councils and district councils. The income of local authorities derives from three sources, namely taxes, non-tax revenue and allocations from federal and state governments. The three types of local government have a range of responsibilities reflecting their size and capacity. All three types must provide basic infrastructure and public utilities, whilst municipalities and cities additionally provide for urban planning, public health and waste management; and city councils further provide revenue collection activity and law enforcement.
The Malaysian Association of Local Governments is a voluntary body established to foster greater cooperation among member local authorities. It is recognised in law and funded by annual contributions from members.
Read the profile of the local government system in Malaysia.
CLGF members in Malaysia
Ministry of Federal Territories and Urban Well-Being